Council Capital Named to Inc.'s List of Founder-Friendly Investors
Back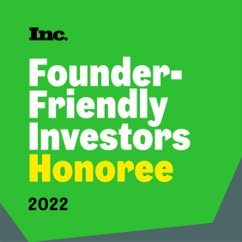 October 25, 2022
NASHVILLE, TN – Council Capital is proud to share that we were recently recognized by Inc. as a Top Founder-Friendly Investor, an annual list honoring Private Equity and Venture Capital firms that have been successful backing founders on their entrepreneurial journeys.
"We're grateful for the recognition and validation of our founder-friendly model by Inc. and the entrepreneurs with whom we've partnered," said Grant Jackson, Managing Partner, Council Capital. "This honor is shared by our CEO Council members who are integral pillars in our broader support ecosystem for our founders. This ecosystem, in combination with our value creation and investment teams, results in a collaborative approach to equity value creation."
The Inc. Top Founder-Friendly Investor Award recipients were selected based upon a rigorous assessment in consultation with portfolio company founders, investment banks, and other thought leaders in the private equity and venture capital ecosystem. Inc. is the publisher of Inc. Magazine, which for more than 30 years has been a premier publication for entrepreneurs and business owners.
For complete information on the Inc. Founder Friendly Investor Awards and the recipients, please visit
inc.com/founder-friendly-investors
ABOUT INC.
The world's most trusted business-media brand, Inc. offers entrepreneurs the knowledge, tools, connections, and community they need to build great companies. Its award-winning multiplatform content reaches more than 50 million people each month across a variety of channels including websites, newsletters, social media, podcasts, and print. Its prestigious Inc. 5000 list, produced every year since 1982, analyzes company data to recognize the fastest-growing privately held businesses in the United States. The global recognition that comes with inclusion in the 5000 gives the founders of the best businesses an opportunity to engage with an exclusive community of their peers, and the credibility that helps them drive sales and recruit talent. The associated Inc. 5000 Conference is part of a highly acclaimed portfolio of bespoke events produced by Inc. For more information, visit www.inc.com.
This rating was awarded by Inc. on September 27, 2022 in respect of the period of the 2022 calendar year. We did not compensate Inc. to receive or use this award; however, we did pay Inc. an application fee of $1,000 and provide the direct contact information for each of our current and prior business founders so that Inc. could speak directly with each individual in determining if we should receive the award.
ABOUT COUNCIL CAPITAL
Council Capital is a leading healthcare-focused private equity firm based in Nashville, Tennessee. We invest in lower middle market healthcare companies ($10-100M enterprise value) on the 'right side of change' in the healthcare industry – where growth will accelerate as cost pressure and quality demands increase. Our unique model helps support management teams in growing their businesses by drawing upon the relationships and resources of our CEO Council, Strategic Healthcare Investors, and Value Creation Team. The Council network, anchored by its CEO Council of 34 senior private and public sector executives who have personally invested over $140M in our funds, has direct relationships with payers, providers, and employers who represent more than two thirds of the country's managed care lives, numerous provider organizations, and millions of self-insured lives.
Let's start a conversation