Grant Jackson Sits on Healthcare Investing Panel
Back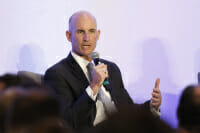 May 17, 2017
More than 300 executives gathered today at the Nashville Health Care Council's annual "Financing the Deal" discussion to hear firsthand perspectives from investment experts on the state of the market and the outlook for funding the growth of Nashville's $78 billion health care industry.
This Panel was moderated by Tom Wylly, senior partner, Brentwood Capital Advisors, and included Diane M. Daych, partner, Apple Tree Partners; Grant Jackson, managing general partner, Council Capital; Todd Sisitsky, managing partner, Capital Business and Co-head of Healthcare Services, TPG; and Mark D. Taber, managing partner, Great Hill Partners
opics central to the discussion were quality and quantity of deals in the current market, paths to successful exits, and outlook for the rest of 2017.
The panelists noted that, regardless of the debates in Washington, health care is trending from volume- to value-based care reimbursement, and investment strategies will largely continue in the same direction regardless of what happens with the ACA.
However, Daych pointed out that it is important to meet payers where they are and that many payers aren't yet equipped for value-based reimbursement. "That is the direction, but it is important to be flexible and make sure the business model can manage under both fee-for-service and value-based reimbursement models," she said.
The panelists mentioned several sectors, especially behavioral health, addiction therapy and EMR support technology, as areas with plenty of growth potential. Now that 90 percent of providers have made the switch to EMRs and have taken advantage of meaningful use, the focus shifts to helping providers become more efficient in the use of this technology.
"A model that addresses the consumer and increases transparency and efficiency is on the right track," Sisitsky said. "We are looking for companies that are value-added partners to existing providers – not competition to health systems, but effective partners."
"Sectors that touch the aging population, such as dermatology, ophthalmology, GI and care management platforms for community-based frail elders, are poised for growth," Daych said.
"More than anything, we look for companies that are on the right side of change in health care, and those that we can specifically help grow with our relationships," Jackson said.
Panel members noted Nashville's significant concentration of health care companies, and the benefits of collaboration within the industry through the city's network. Nashville is home to more than 800 companies working in health care and 18 publicly traded health care company headquarters.
"I have been working in Nashville since 2002, and it's amazing to see the growth that has happened in that time. Nashville has always been a health care town, but it has grown into a tech hub as well. I could fill a week just meeting with interesting companies. The city's unique culture of collaboration is one-of-a-kind," Taber said.
"Nashville is home to an extraordinary group of health care innovators. The leaders here have a lot to teach us about health care, and I hope it is the people here, rather than those in Washington, who chart the course for the future of the industry," Sisitskysaid.
Jackson, the only panelist based in Nashville, explained, "Nashville has a unique mix of can-do attitude and a practical, get-things-done approach. A high proportion of businesses are successful here because of that attitude and the spirit of collaboration."
Today's program was presented by Baker Ober Health Law. Supporting sponsors were Buffkin Baker, Capstar Bank, ESa and LBMC.
About the Nashville Health Care Council
The Nashville Health Care Council is a premier association of health care industry leaders working together to further establish Nashville's position as the nation's health care industry capital. Supported by nearly 300 corporate members, including local and national health care companies, the Council serves as a trusted source for information on trends that influence the health care industry. The organization provides members with one-of-a-kind networking opportunities and access to Nashville's elite health care business community.
Worldwide, Nashville's health care industry generates more than 500,000 jobs and $78 billion in annual revenue. The industry is Nashville's largest and fastest-growing employer. For more information on the Council, please visit www.healthcarecouncil.com.
For full article Click Here
Let's start a conversation